Did you enjoy the festive season and make good resolutions for the year 2023?

We have the solution for you: BellaVie GLUCO

BellaVie GLUCO is a broad spectrum, high CFU* dietary supplement containing 7 microbiotic strains, prebiotics and nutraceuticals, each selected for their health benefits. The formula has been developed with essential gut bacteria to promote a more favourable balance of the gut microbiota.

The formula is supplemented with fibre and nutraceuticals that work in synergy with the microbiotic strains and enhance their activity.

BellaVie GLUCO capsules contain nopal (cactus extract), which has a diuretic effect, and chromium, which helps maintain normal blood sugar levels.
*CFU = Colony Forming Units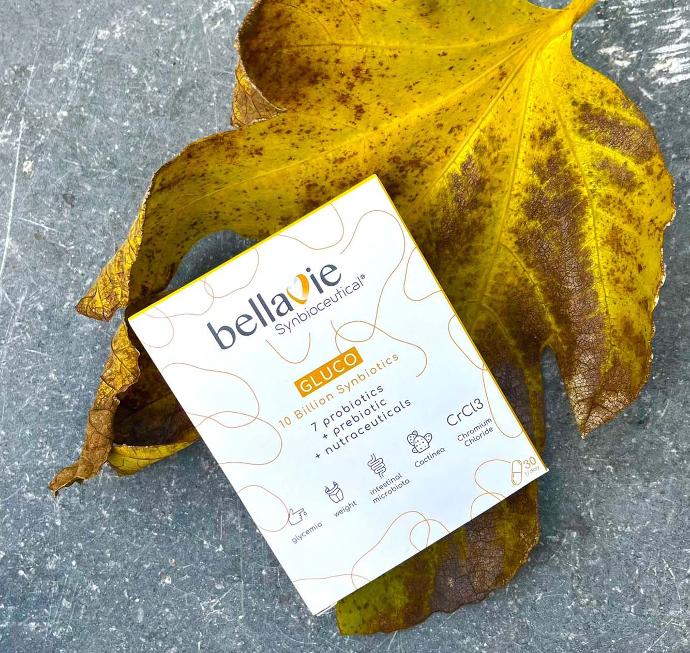 The benefits of BellaVie GLUCO :
100% Belgian production;

Live strains:

 

All our formulas have been developed with probiotic strains, which are living bacteria;



Innovative formula and patented

 

Synbioceutical

 concept

:

 

the formula has been developed for specific uses. The product contains microbiotic strains, fibers and nutraceuticals well described scientifically for specific health benefits;
Broad spectrum:

 

CFU = Colony Forming Units which allows to estimate the number of viable bacteria in a sample;



High concentration:

 

each capsule contains a large amount of live microorganisms. The quantity is indicated in CFU (Colony Forming Units). Each capsule contains 10.000.000.000 UFC;

Vegetable capsules and Halal certification:

 

the capsules are certified vegan, non-GMO, Halal and Kosher; 

Gastro-resistant capsules:

 

to protect the microbiotic strains from the acidity of the stomach, we use specific capsules with a superior resistance to this acidity. The quantity of living microbiotic strains in the intestine will therefore be higher; 

Specific nutraceuticals:

 

the nutraceuticals are chosen according to the desired action;

Heat resistant strains:

Bacillus Coagulans is a world-renowned strain that provides optimal temperature resistance up to zone 4B. This zone indicates a very humid and intense climate;

Moisture resistant packaging:

 

our packaging (capsule and blister) with low moisture content has been selected to preserve the microbiotic strains against moisture and allow them to live longer.
Honey is not a product to be avoided by diabetics. With a low glycaemic index and a high sweetening power, it is even a great help in maintaining a balanced and pleasant diet, while keeping one's blood sugar levels under control. However, it is important to choose the best honeys for diabetes, and to limit its consumption to reasonable uses. For example, acacia honey is an excellent honey for people with diabetes. Of course, proper medical supervision is always essential !

The benefits of sport for people with diabetes
Sports activity has been shown to improve the course of diabetes, especially when combined with a good diet. Physical activity helps to lower the glycated haemoglobin level (the diabetes monitoring index). If this level is low, it means that the diabetes is under control and that the average blood sugar level is close to normal.

Sport also reduces body fat, which is responsible for insulin resistance, and increases lean body mass.

Advice before practising a sport :
Drink water before, during and after sports activities;


Stretch the muscles after exercise;




Measure blood glucose levels before, during and after exercise;




Carry sugar to replenish the body in case of hypoglycaemia (sugar, soda, etc.).